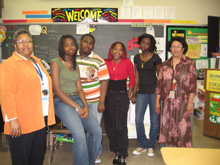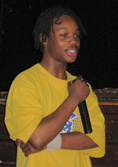 Teenagers urge peers to abstain from sex
By: Keyanna Butts/Contributing Writer
Posted: 3/11/07
Spreading the gospel of sex abstinence is a challenge seventh grade Cameron Tate readily relishes. There are strong reasons for keeping away from sex, the Stuart-Hobson Middle School student writes in an essay contest for Abstinence Awareness Week which is March 10 through the 16th.  He wants teenagers to understand that sex may bring pregnancy, HIV and other sexually transmitted diseases.

"If you're a teenager in school, the baby would distract you while you're studying," the Northeast D.C. student writes. He said that since he's abstinent, it's easier for him to concentrate on his schoolwork and get good grades. If I had a child, I would struggle through school and might not graduate from high school," he says. "My life is care free. There are no disadvantages in being abstinent."

Tate and other members of Ultra Teen Choice, a local teen peer-counseling program, are taking a stand for abstinence.  On its Web site, the group notes that 50 percent of teenaged girls in the District will get pregnant at least once, while no teenager abstaining from sex will get pregnant, contract HIV, or have any other negative consequences of sexual activity.

The teenagers will encourage their peers to wait until they are married to have sex during Ultra Teen Choice's second annual Abstinence Awareness Week.

"A lot of young people don't know that abstaining from sex is an option and that you can live without having sex until marriage and that it is a desirable choice," said Ade Ademisoye, a sophomore at Eastern Senior High School in Northeast D.C. and youth president of Ultra Teen Choice. ""This is a good way to get the message out there: that abstinence is important."

Ultra Teen Choice is the committee host for Abstinence Awareness Week, which will be held at various locations throughout the week.

The week's agenda will include question-and-answer sessions, skits, songs, dance routines and testimonies. Special guests include author and WAMU-FM radio personality Jonetta Rose Barras and local recording artist Mark Greene.

Co-founded in 2003 by Richard and Stacey Urban, Ultra Teen Choice provides programs and activities for middle and high school youth that promote healthy lifestyle behaviors and character-based decision making with an emphasis on abstaining from sex until marriage.

"We put a standard out to the kids, that they should be abstinent until they're married," Richard Urban explained. "It is directive and character based, so that is the expected standard that they have. We do not promote or demonstrate contraceptive use."

For Abstinence Awareness Week, Ultra Teen Choice has partnered with community organizations such as the D.C. Healthy Marriage & Relationship Coalition, Amerigroup, Concerned Black Men, Christian Love Baptist Church and East Capitol Center for Change (ECCC).

"I'm excited about Abstinence Awareness Week," said Melissa Higgs, ECCC youth health and abstinence educator. "It will be beneficial for the city and for young people. There is so much pressure from the media, peers and the environment. We just hope to plant a seed in the minds of youth, giving them another option and another way of thinking."

Aside from informing and encouraging youth about abstinence, organizers also hope to advocate change in District legislation. Urban explained that the District budget contributes very little to programs, which teach youth to abstain from sexual relations until marriage.

They may have an ally in the new mayor, Adrian Fenty, who has declared March 10th-March 16th Abstinence Awareness Week.

A selected group of youth will talk to six council members and explain the importance of abstinence, abstinence programs and clubs in the District. Organizers hope that this will emphasize the necessity for more legislative support and funding toward abstinence programs and clubs.

So far the Ultra Teen Choice has four abstinence clubs at one high school and three middle schools in D.C. Each club has about 15 members.

"Youth need and deserve our support," Urban said. "With the really high rate of HIV/AIDS in the District, and with teen pregnancy rates reaching 50 percent in the District, I think we need a strong track for kids who want to stay abstinent. And I think the District government needs to fund that."
© Copyright 2007 The District Chronicles