View this Newsletter in your browser
Also in this issue:
 
Sex in DC Public Schools is OK, but not Teaching Abstinence

Join the Urban Life Training Community Advisory Board

 Relationship Intelligence Education for Your School, Church or Organization

   www.urbanlifetraining.org
  202-558-5550

Greetings {FIRST_NAME},

  August 20, 2015

Register now for STAR Interfaith Leadership Training

 STAR Interfaith Leadership Training raises youth to be leaders who are confident in their decision to remain sexually abstinent before marriage.

STAR Guide Alumnus Syreeta Crawford explains the importance of STAR Interfaith:

Could you explain why the training was important to you?

This training was important to me because it allowed me to share with my peers educational information that would help guarantee their success in all areas of their life. By being the change I wish to see in this world, through informing others about how to handle peer pressure, how to be confident in their decision to abstain from acts that are harmful to their future and how to build a strong foundation in their personal growth, I can help edify the trailblazers that will lead our nation.

What about the training touched your heart?

What touched my heart the most about the training was being able to fellowship with my peers and to provide a positive environment for us to be a support system and motivation for each other, as we remain confident in our decision to abstain from harmful actions such as abusing drugs, alcohol and participating in premarital sex. 

Why would it be good for others to attend?

It would be very good for others to attend this training because it will provide them with the information they need to be a beacon of inspiration, wisdom and the opportunity to advocate for the mental, physical, and emotional well-being of themselves as well as for future generations. Ultimately, sharing this information will provide for a more emotionally, financially and professionally stable society. 

How will the training help you succeed?

The training will help me succeed by teaching me the proper way of handling my future relationships and how to make the best decisions to ensure that I am making healthy choices that will positively impact my future, which will not stagnate my maturation process.

How did teaching STAR interfaith touch or affect me?

Instructing the 5 week trainings affected me because it showed me how important it is for me to share my confidence about abstaining before marriage with others. I made a lot of sexual mistakes in my past because I did not have a mentor who was encouraging me to maintain sexual purity before marriage. If others do not know better they will not have the means to do better and unfortunately they must resort to the streets or social media to be taught what they should or should not do. I fell into the trap of believing that what others were doing around me was acceptable for me to do as well. However now that I have the knowledge I gained from STAR interfaith, I can use my past mistakes as my testimony to help encourage others to abstain before marriage. 




Sex in DC Public Schools is OK, but not Teaching Abstinence

We held an Urban Life Training Leadership Club meeting at Duke Ellington School of the Arts in Washington, DC, as we do on Wednesdays three times each month.  One student told me that recent incidents of Ellington students having sex during the school day give greater impetus to our desire to help youth make the best choice for their future; abstinence from sex before marriage. Students also told me that sex is a normal part of what happens in all DC Public High Schools, and even in Middle School. 

The incidents of students having sexual intercourse during school hours (which I assume is not an approved use of classroom time) at Duke Elllington School of the Arts is very concerning.  It would seem to be a no-brainer that having a program such as Urban Life Training that encourages students to develop good character would be welcome.  But that is not the case.  One teacher, in November objected to our staff and youth peer counselors teaching DCPS reviewed Relationship Intelligence presentations in classrooms of teachers desiring of such presentations.  The former Head of School, Father John Payne, had approved the presentations.  Unfortunately, Father Payne died suddenly of a heart attach in October of 2014.  Subsequently, one teacher took it upon herself to block the presentations. She complained to the new Academic Dean (as she also had done at the end of last year to the old Academic Dean).  The new Academic Dean told us to stop the presentations, which have been given to more than 3000 DC public school students over the years.  the expressed reason is that our presentations are an inappropriate use of classroom time. Read more

Join the Urban Life Training Community Advisory Board

Urban Life Training is seeking community members to advise and assist Urban Life Training in it's mission to raise youth leaders who model and teach about the benefits of sexual abstinence in preparation for marriage and successful family formation. We meet on the fourth Wednesday of each month (except August) in Washington, DC.   This email address is being protected from spambots. You need JavaScript enabled to view it. with your name and contact information if you are interested in being on the Urban Life Training Community Advisory Board.

Services Provided
Relationship Intelligence Education
for your school, church or organization.
Urban Life Training is a premier provider of HIV/AIDS prevention services and peer counselor training that is abstinence centered and evidence based. Call Richard at 202-544-5081 to schedule sessions for your school, church or organization. Click here for more information.
STAR (Students Teaching Abstinence & Responsibility) Guides are young adults who practice sexual abstinence. STAR Guides teach other youth about the benefits of abstinence, and serve as positive role models. Register for  Leadership Training to receive STAR Guide certification.
Richard Urban's Blog:
Stop Abusing DC Youth and Let them Choose Sexual Abstinence
Recent Posts:
Sex in DC Public Schools is OK, but not Teaching Abstinence
Outrageous Attack on Religious Freedom
Freedom of Religion, not Freedom From Religion
Right Choices Youth Prevention Corps

Like Urban Life Training on Facebook
Sign Up to Receive Urban Life Training Email News: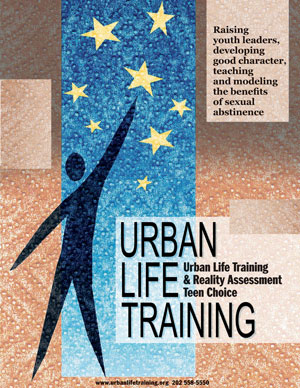 Download the Urban Life Training Case Statement:
Low resolution (faster)
High Resolution
Helpful Links:
http://www.urbanlifetraining.org
http://www.relationships101.org
http://www.freeteensyouth.com

http://www.abstinenceassociation.org
http://www.abstinenceworks.org

Home & Business Grocery Delivery
Forward this message to a friend | (202) 544-5081